From Then To Now
Long ago, the fire protection in Hillsborough County was provided by community volunteers. As an example, the Lutz Civic Association, in 1951, had their members assigned by an "Emergency Response Plan". If you had an emergency, you called an officer of the Civic Association to establish a response to your emergency. A minor emergency brought you a couple of neighbors who were members of the Civic Association. A big emergency brought you many more members. No firefighting or EMS vehicles, but rather buckets (water from your lake or well) and garden hoses for a fire. And bandages if you had a medical emergency. The 1950, there began the organization of Volunteer Fire Associations which were usually a Not-for-Profit, pay a membership fee for fire protection.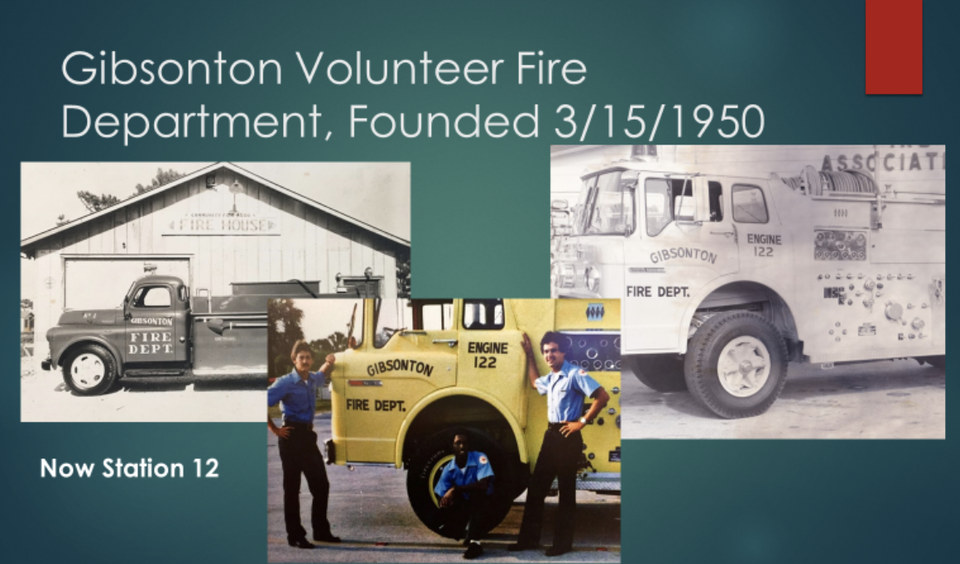 Throughout the 1950 and 60's, these Volunteer Fire Departments grew in numbers, topping out at eighteen (18) total in the 70's. Each department had a Board of Directors, a Fire Chief, and a fine compliment of fire and rescue equipment that protected all parts of Hillsborough County. Each department name represented the community that was served, as there were no station numbers back in the day. Neighboring departments often responded without consideration of a Mutual Aid Contract, as when help was needed, the volunteers were on their way.

In 1964, the Hillsborough County Commissioners appointed the first countywide Fire Coordinator, Ed Levine. The Hillsborough County Fire Association, made up of each of the Volunteer Fire Department Chiefs, meet each month to discuss common issues and share training opportunities. Mutual Aid Contracts were put into place to address the liability and response criteria when responding outside of your community.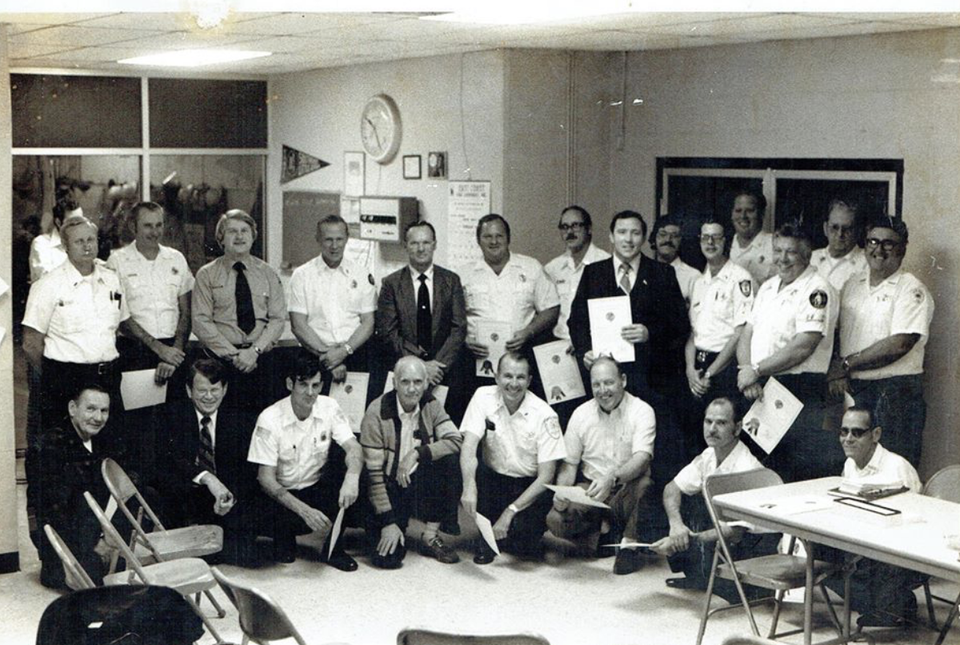 First aid classes were taught in the volunteer Fire Stations by American Red Cross Instructors. Most volunteers had CPR training and had basic resuscitation equipment on the utility vehicle that responded to auto accidents and medical calls. Many funeral homes provided patient care, using their funeral hearse as transportation to two hospitals in Tampa: Tampa General and Old St. Joseph's.

Ambulance Incorporated was the first organized EMS service in Hillsborough County, which contracted with the Hillsborough County Commissioners. In the early 1970's, the State of Florida established the first trained and registered Emergency Medical Technicians (EMTs). Gunn Highway Volunteer Chief Duane Spaun was one of the first to become a registered EMT.
Later, the County formed their own Hillsborough County EMS for patient care and transport. In 1996, the County Commissioners moved to consolidate the EMS and Fire Department, which changed the name to Hillsborough County Fire Rescue.
Past & Present Fire Chiefs, 1964-2020
A Chief of Volunteer Services was created by Chief Earl Goff in 1988. This effort was to establish County level training and response standards for over 400 volunteers County wide. Most early career firefighters in Hillsborough County began as volunteer firefighters. The Reservist program was established under Chief Callahan and was designed for applicants to ride and train with the career personnel.

Due to the rapid growth of population in Hillsborough County, the County Commissioners began an aggressive effort in building more Fire Stations, with the use of Impact Fees (paid by the housing developers), which in turn brought on more hiring of career personnel in the 1990's and early 2000's. As the County continued to grow in housing density and call volume, the Volunteers were gradually replaced by career personnel that were cross trained with EMS and Firefighter credentials.